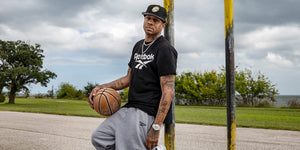 Iverson Classic Announces 2020 Rosters
Evan Mobley, Ziaire Williams,Terrence Clarke and others highlight the selections. Game will be played April 22-24th at the 76ers Fieldhouse and dedicated to Kobe & Gianna Bryant.
PHILADELPHIA, PA. Feb. 2, 2020 - NBA Legend and Hall of Famer Allen Iverson unveils today the official rosters for the 2020 Allen Iverson Roundball Classic, popularly referred to as the Iverson Classic. Top ranked players like Evan Mobley, Ziaire Williams and Terrence Clarke highlight the list of selections for the game that Slam Magazine called "the most competitive All-American game in the country." He also announced that this year's game will be played on April 24th and will be dedicated to Kobe Bryant and Gianna Bryant. 
Tickets for the 2020 Iverson Classic go on sale today and are available at IversonClassic.com. For the first time, the game will be held at the new 76ers Fieldhouse arena. 
The 2020 Iverson Classic All American selections are: Adam Miller, BJ Boston, Caleb Love, Cam Thomas, Cliff Omoruyi, DJ Steward, Deivon Smith, Dominick Harris, Evan Mobley, Henry Coleman, JT Thor, Jaden Springer, Jalen Johnson, Jalen Suggs, Josh Christopher, Josh Hall, Karim Mane, Keon Johnson (injured), Lance Ware, Mady Sissoko, Makur Maker, Marcus Bagley, Mark Williams, Nimari Burnett, RJ Davis, Terrence Clarke and Ziaire Williams
The players will be divided into two teams, Loyalty and Honor, each coached by NBA legends. The team rosters and coaches for 2020 will be announced in the coming days.
"We've taken the time and identified some really special players this year" said Allen Iverson, Co-Founder of the event with Jai Manselle and Bobby Bates Jr. "Not just highly ranked, these guys are all heart" he added.
The Allen Iverson Roundball Classic is one of only a small number of NBA-sanctioned events.  
The 2020 Iverson Classic also marks a new chapter in the long standing legacy of Allen Iverson and SLAM, the #1 brand in basketball media, who will return as a brand partner.
Reebok, the maker of Iverson's long running signature sneaker line, will also return as the Official Shoe and Lifestyle Partner of the 2020 Iverson Classic.
Iverson Classic events will tip off on Wednesday, April 22nd, 2020 with The Iverson Games, a gauntlet of crowd-pleasing events including a Dunk Contest, 3-Point Shootout, 1 on 1 matchups and more. The final event will be the Allen Iverson Roundball Classic All-American Game on Friday, April 24th.
The decision was made to dedicate this year's game to NBA star Kobe Bryant and his daughter Gianna who both tragically passed away in a January 26th helicopter accident that also took the lives of 7 other passengers. Kobe was a friend, icon, father, businessman, legend and an irreplaceable part of the culture. Allen Iverson and the Iverson Classic family send our heartfelt condolences, love and prayers to Vanessa, Natalia, Blanka and Capri as well as the rest of the Bryant family and the families of the other victims. .
About the Allen Iverson Roundball Classic
 The Allen Iverson Roundball Classic, the #1 All American game in the country by social viewership, held its first All-American game in 2017 and represents a disruptive, independent new force in the sports world. The AIRC is truly a unique experience. It's the only grassroots basketball event of its caliber that is run by a Hall of Fame legend who is hands on, engaged and involved directly with the players. These soon-to-be NBA stars actually train and compete under the guidance of Allen Iverson and other NBA legends. The week-long event is owned and operated by Iverson Manselle Bates Enterprises, a sports and entertainment company co-owned by Allen Iverson, Jai Manselle and Bobby Bates. 
@IversonClassic
Get up-to-the-minute updates, exclusive content, key announcements, giveaways and an all access look at the 2020 Iverson Classic by following us on Facebook,Instagram and Twitter.
For More Information or to apply for press credentials:
Iverson Classic Media Dept
media@iversonclassic.com
---