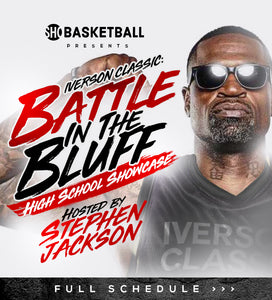 Showtime Basketball Presents....
We are proud to announce our new partnership with Showtime Basketball.
Showtime Basketball Presents...IVERSON CLASSIC: BATTLE IN THE BLUFF Hosted By Stephen Jackson.
As Iverson Classic grows as a brand, we are always looking for new ways to bring you the best, most competitive, and entertaining elite basketball on earth. Now, with Battle In The Bluff, we are doing just that.
NBA legend and Iverson Classic coach Stephen Jackson returns to host this highly competitive high school showcase that will take place in Memphis from December 10th-12th and feature top ranked teams and players like JD Davidson and Robert Dillingham. 
For the first time, we will be partnering with the iconic media brand Showtime to make this happen. Showtime Basketball shares our passion for disruptive, exciting and original sports content. We couldn't be prouder to have them join us on this journy.  
Get ready for the newest chapter in the Iverson Classic story. Showtime Presents... The Battle In The Bluff Hosted By Stephen Jackson is a high school showcase like none other. Highly competitive matchups, special NBA guests and more! Get your popcorn ready. Limited tickets are available for purchase.
CLICK HERE TO GET TICKETS, SEATING IS EXTREMELY LIMITED
Ticketing is as follows:
Dec 10th
6PM: iSchool of Lewisville vs Tennessee Prep
7:30PM: The Calhoun School vs Bartlett High School
Dec 11th
4PM: iSchool of Lewisville vs Bartlett High School
6PM: The Calhoun School vs Arlington High School
7:30PM: St Louis Christian vs Combine Academy
Dec 12th
SESSION 1:
11AM: Briarcrest Christian School vs Kenwood High School
12:30PM: Dyersburg High School vs Lausanne Collegiate High School
SESSION 2:
2:45PM: Goodpasture Christian School vs Memphis University School
4:30PM: Evangelical Christian School vs Jackson Southside
SESSION 3:
6:45PM: Combine Academy vs Bartlett High School
---